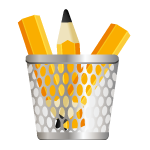 Small enough to fit on your desk but loud enough to fill the break room. Office / Desk iPhone Speaker sets are usually smaller in size, designed to be unobtrusive spatially. They are not loaded with unneeded options and are not designed to amplify for especially large spaces or the outdoors.
For your convenience, look for features like and AM/FM radio tuner, and integrated rechargeable batteries. Having a remote on your desk system makes it convenient to control your music easily.
Desk systems are usually lightweight and portable; they usually come with some sort of travel/carrying case, for business travel. The most popular models are adaptable and will dock all types of iPods; usually this is accommodated by interchangeable adapters/docks. Desk speaker sets are typically in the $75-$200 price range.
Logitech S715i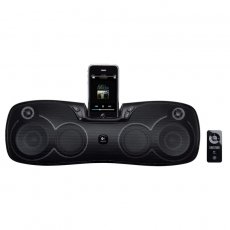 The S715i has all the great sound & features you are looking for in a portable iPhone speaker system. It's built very well and looks great.The auto on/off features and trayless dock are a couple of the well thought out features for this well constructed unit.
Editor Rating: 9.0
MSRP: $149.99
Buy from Amazon here
(Approx $130)
Buy from Logitech.com here (Free Shipping)
iHome iP90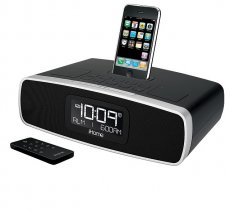 The iP90 is the next generation iPhone / iPod alarm clock from iHome. All the great features we have come to expect from iHome. Easy to use controls big display and great sound. Two nice features are the adjustable dimmer and dual alarms.
MSRP $99.99
Buy from Amazon here
. (Approx. $85)
Buy directly from iHome here (Free Shipping)
Use the above iHome Link and
Coupon Code WAKE20 to save 20%
Expires: 12/31/2010
Altec Lansing inMotion Max
The second iPhone speaker system from Altec Lansing. Excellent Sound and great features. Rechargeable battery, Remote Control and it folds up nicely.
Editor Rating: 9.3
MSRP: $199.99
Buy from Amazon here
(Approx $115)

Altec Lansing inMotion MAX Review
More iPhone Speaker Options