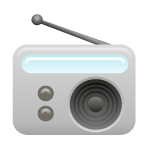 When shopping for portable iPhone speakers, consider ease of set up and storage/packing first. Sound quality will not be as pristine as more permanent systems but should meet the needs of your intended use/space.
Look for a system with an internal automatically recharging battery, allowing you to take your speakers where there is not a power source. Portable iPhone speaker systems can fall into one of three sizes: Large or Boombox (portable, loud and works well outdoors), Medium or Desktop, Small or Travel.
Best Portable iPhone Speakers: Logitech S715i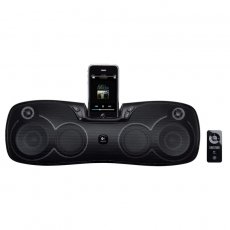 The S715i has all the great sound & features you are looking for in a portable iPhone speaker system. Music comes through clean and clear. The auto on/off features and trayless dock are a couple of the well thought out features for this well constructed unit.
Editor Rating: 9.3
MSRP: $149.99
Buy from Amazon here
(Approx $125)
Buy from Logitech.com here (Free Shipping)

Logitech S715i Review
Livespeakr Portable
Excellent sound from a super small system. Well constructed and cool horizontal view for video. This unit may have the best sound for its size. Great for travelers, students or people who like ultra portable systems.
Editor Rating: 8.7
MSRP: $79.99
Buy from Amazon here
(Approx $55)

Livespeakr Review
Altec Lansing inMotion Max
Perfect system for around the house or office. Excellent sound even at higher volumes. An internal rechargable battery means never buying batteries. The FM radio makes keeping up with news or sports very easy.
Editor Rating: 9.3
MSRP $199.99
Buy from Amazon here
(Approx $100)

Altec Lansing inMotion Review
iHome iP46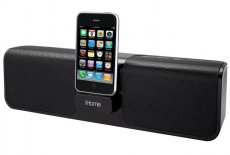 An excellent and very popular portable system from iHome. Great sound and an internal rechargable battery and the price is a lower than many other similar options. Great value for the construction, portability and sound.
Editor Rating: 9.0
MSRP: $99.99
Buy from Amazon here
(Approx $90)
Buy from iHome here
(Approx $99)
Use the above iHome Link and
Coupon Code UNPLUG20 to save 20%
(Code may not be active yet)
Expires: 12/31/2010

iHome iP46 Review
iHome iP49 Portable iPhone Alarm Clock
The iHome iP49 is an improvement on the iH27 for the iPhone. It now blocks interference caused by mobile devices. The iP49 has a very cool design, is perfect for traveling and works well in any environment...
MSRP $159.99
Buy from Amazon here
(Approx $159)
Buy directly from iHome here
JBL On Stage IIIP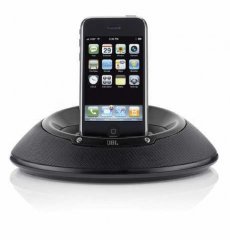 The JBL On Stage IIIP is portable system that works well with your iPhone and iPod. It blocks mobile phone interferrence while sounding excellent with your device. Great system for people looking for a nice, portable system...
MSRP: $169.95
Buy from Amazon here
(approx. $105)

JBL On Stage IIIP Review
More iPhone Speaker Options