To make your iPhone your portable DJ, choose an iPhone Boom Box that you can take with you to a party, a picnic or the beach. The ideal speaker system will be both portable and loud, as often, these are used in open spaces or outdoors (at the pool, the beach, etc.), so you are looking for the ability to project loudly and clearly.
Also, if you are using them outside, you should look for durability. Look for an iPhone Boom Box that will embed your iPhone, protecting it from outdoor hazards (weather, accidents/dropping, etc.). The power source ought to be adaptable for different indoor/outdoor uses, with a built-in rechargeable battery being ideal.
Best iPhone Boombox: Logitech S715i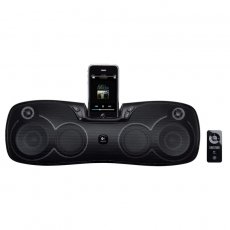 The S715i has all the great sound & features you are looking for in a portable iPhone speaker system. Music comes through clean and clear. The auto on/off features and trayless dock are a couple of the well thought out features for this well constructed unit.
Editor Rating: 9.3
MSRP: $149.99
Buy from Amazon here
. (Approx $125)
Buy from Logitech.com here (Free Shipping)

Complete Logitech S715i Review
More iPhone Boombox Options